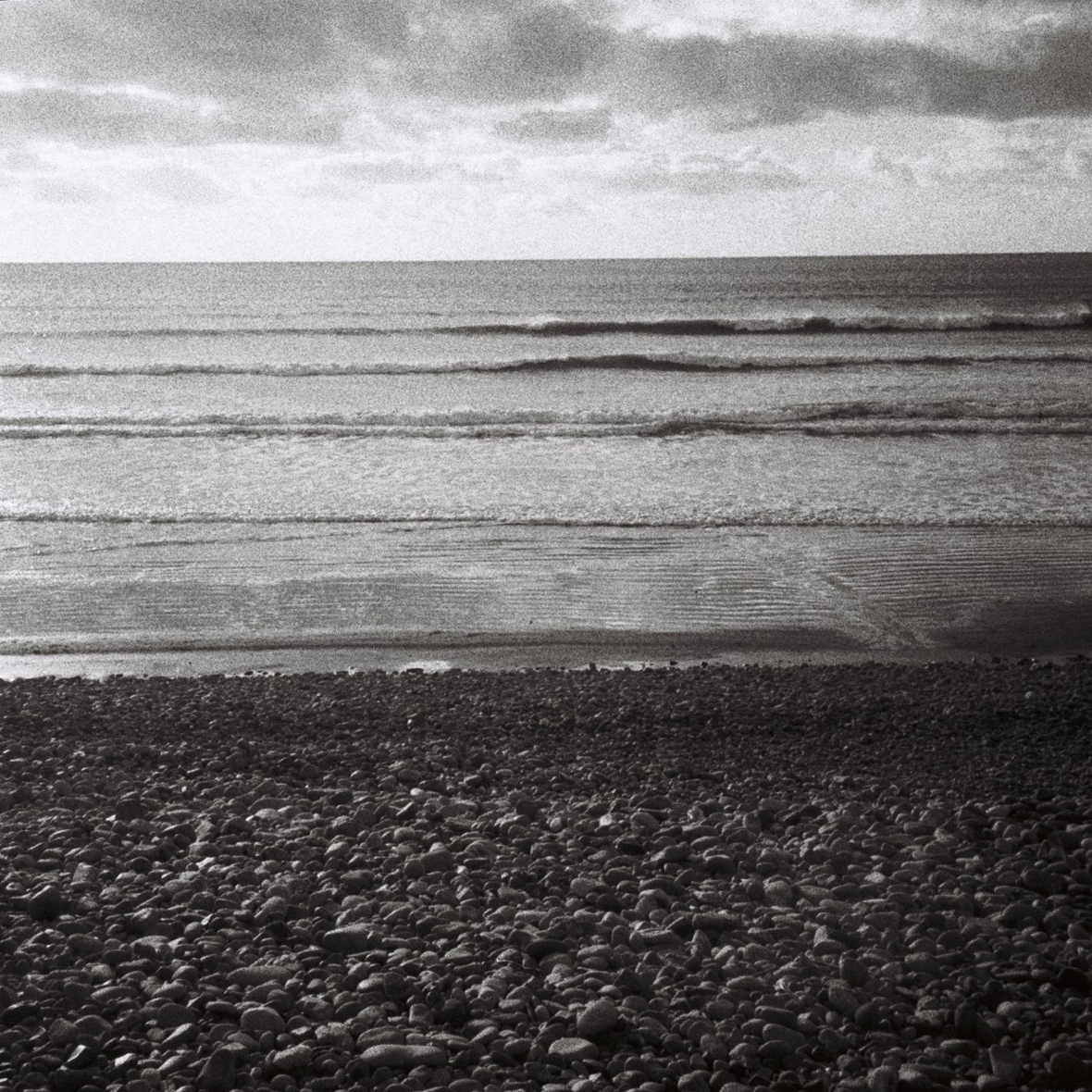 The Offing

text and photographs: Will Judge,
architecture graduate at the Glasgow School of Art

English proofreading of the articles on behalf of the SARP Krakow Branch:
dr inż. arch. Marta Anna Urbańska
Original English texts were delivered by the authors.

reading time: about 10 min
Most distant part of the sea in view.

If you stand on the edge of land and look as far as the eye can see in one single direction, out to sea, what do you perceive? Our bodies and minds are drawn to the elliptical point where water and sky collide, the distant most point where distinctiveness blurs, and objects on the horizon taunt our illusive state of reality - is it there, are we moving, or is it all orbital?

Our fascination with structures that protrude into the ocean landscape offer a glimpse of being out at sea, whilst stable and motionless in our stationary state. Pleasure seeking structures along our coastlines appear so encapsulating on first sight; it is difficult to explain the level of satisfaction and accomplishment upon reaching the edge condition of the furthermost point protruding into the sea. This unique sense of space, scale, and happenstance place-making seems a clear point to begin in deconstructing our architectural relationship with water, the organic geography of the shoreline, and our yearning to configure the vista directly out into the offing.
We are land creatures, but each have a powerful connection with water, possibly because over half of our body content is water alone. Our seaworthiness is dependent on balance, stomach nausea, and the brain's ability to adjust to a new environment. Evidence of waterborne vessels as early as 4000 BC, demonstrate our continued need to conquer the ocean. Our primitive desire to overcome the sea, to travel further; trade goods, seek defence, and transport information and skill, has led to the development of a complex network of routes, chartered services, and shipping lanes in modern times. Our ocean is actively navigated, and connected in a similar manner to all other networks. Sea travel can be both the most luxurious of cruises and simple rudimentary transport - but irrespective of splendour, looking beyond each bow of the ship into the horizon offers something new and different upon each gaze every time.
We are always intrigued by edges, limits, boundaries, as we try to define our position, to understand who we are and where we are. Boundaries inspire existential thought, metaphysical speculation, personal evaluation and imaginative leap-frogging. Seaside locations, with the basic sensory contrasts inspire introspection and personal projection. A curiosity causing us to peer at the horizon, encourages us to consider beyond, imagine elsewhere, refocus thoughts, readjust viewpoints, even bend timescales. Perhaps the popularity of stepping stones, bridges, ferries and piers is something to do with the joy of overcoming a physical barrier. As we defy a natural impediment to continue a journey, the sense of freedom must release various kinds of thought.
1. Stirling Prize 2017; www. architecture.com [date of access: 08.09.2019]

2. Formulary for a New Urbanism (Chtcheglov, 1953), The Situationist International Anthology : Bureau of Public Secrets. [Originally published 1981 and reprinted in 1989 and 1995. Extract from revised and expanded version published December 2006 Edited and Translated from French by Ken Knabb]

3. The Architects' Journal (Pitcher, January 2019)
The stunning image of the reconstructed Hastings Pier, winner of The Stirling Prize 2017 neatly tessellates such liminal coastal thinking into a contemporary typology no longer beholding to the 19th century pier construction. This project was hailed "a masterpiece in regeneration and inspiration"1 by the RIBA prize jury, opening-up a structure that effectively resists commercial appropriation in a brave, generous gesture, which provides open public space. Eugenius Birch was the seaside architect and promenade-pier builder who constructed the original structure at the Hastings site in 1872, having previously developed fourteen such structures in Brighton, Blackpool, Eastbourne, and elsewhere. The Hastings project emphatically acknowledges the value of such structures in maximising exposure to the interaction of environmental and atmospheric conditions, as the pier encourages visitors to depart land and travel on a journey out into the ocean. In 1953 Ivan Chtcheglov wrote "architecture is the simplest means of articulating time and space, of modulating reality and engendering dreams"2, an ostentatious claim which can be realised when imagination is released and poetic qualities are enhanced by such structures in our landscape. Sadly, the future of this pier has been clouded by recent private development, change of ownership, and conflict with a community orientated vision.3 Piers are an important part of our cultural heritage and landscape, posing the question; should they be treated like public footpaths, protected, and open access for all?


4. The Architectural Review, Typology: Pier (Slessor, April 2015)

5. National Piers Society; www.piers.org.uk [date of access: 08.09.2019]

6. The Good Life France Magazine; www. thegoodlifefrance.com/ amazing-pier-crystalcasino-nice-france [date of access: 08.09.2019]

Piers developed from boarding and disembarking stations for sea travel, became pedestrian routes in their own right, then sites of leisure entertainment. Recognition of commercial potential soon transformed such walkways with cafes, souvenir shops, kiosks, games and grand music halls, leading to some piers being gated and charging for admission. In fact when this first happened at Margate's newly rebuilt pier in 1812, it provoked riots.4 Piers are popular extensions to international seaside resorts.5 Further fine examples include Sopot's pier built in 1827 by Jean Georg Haffner, a surgeon and major of Napoleons' Grande Armée. Initially constructed to form a marina and local harbour, Sopot's pier has been gradually improved and extended to become the longest wooden pier in Europe; an impressive example of timber engineering. California has numerous walkways projecting out into the North Pacific Ocean. Oceanside has been the site of six piers dating from 1888, each structure's limits challenged by heavy storms. Zhanqiao Pier in China dates from 1891 with an impressive double roof Chinesestyle octagonal pavilion constructed in 1930 at the farthest point like a lighthouse or beacon in the landscape. The crystal casino and incredible pier in Nice, France is hardly traceable but certainly not forgotten for its grandeur, opulence, and splendour.6 Postcards and photographs document the iconic tourist landmark and how it was a catalyst in transforming the coastline of Nice at the end of the 19th century.


7. The Museum of Modern Art; moma.org/collection/ works/7901 [date of access: 08.09.2019]

8. Hiroshi Sugimoto; www. sugimotohiroshi.com/ seascapes-1 [date of access: 08.09.2019]

9. Panthalassa; www. panthalassa.org/hiroshisugimoto-seascapes [date of access: 08.09.2019]

10. A Philosophical Enquiry into the Origin of Our Ideas of the Sublime and Beautiful (Oxford World's Classics), Edmund Burke (Author) : Oxford Paperbacks; New Ed. / edition (Nov. 2008) Adam Phillips (Editor)
A boarded walk on a lattice of stilts, floating between sky, sea and sand, the basic pier structure offers a launching pad for millions of dreamy thoughts and suspends us in an airy, fluid, liminal zone. This deeply satisfying and refreshing pursuit of standing on the edge of land and directing contemplation out into the offing, offers free time to clear the mind - a kind of sublime. The dilation of time and elapsed measurement in these conditions is unique. No longer governed by the second-hand of a clock, our quantification and schedule is instead directed by the colour of the sea and sky, our geological position, and the orientation of the sun. Our spatial reality is challenged by the seascape. A surrealist example is the 1931 oil painting 'The Persistence of Memory' by the artist Salvador Dalì. Located in the coastal condition with rocky outcrop, hard and soft invert, time bends, and clocks melt in a recognisable and widely referenced motif, which Dalì referred to as the "camembert of time and space".7

The offing is not the horizon. Here the line where the earth's surface and sky appear to meet is more precise and delineated. The presence and characteristics of uncertain and immeasurable qualities blur the boundary of place, space, and landscape; this is what makes the ocean waves so encapsulating and unpredictable. We can be sure that we join millions of other journeys that begin here drifting out to sea, memorised on some promontory, looking out into the marine landscape. The Japanese photographer and architect Hiroshi Sugimoto explains "Every time I view the sea, I feel a calming sense of security, as if visiting my ancestral home; I embark on a voyage of seeing."8 Sugimoto's black and white seascape photography documents the experience of such complex thoughts which "simultaneously capture a discrete moment in time but also evoke a feeling of timelessness".9

The sea is an important organic object in view, often it is calm but sometime it can be fierce and unpredictable. It must be a basic impulse to get to the edge of land and then imagine beyond. As Edmund Burke wrote in his Philosophical Enquiry, 1757 "...when we cannot see distinctly, we know no bounds."10 Just as we have innate explorer and survivor instincts to find other places, it is also compelling to gaze at fractal patterns and nature's rhythms at some edge of land and sea. This phenomenon is not a romanticised condition, neither is it idealised; the precondition certainly is not commercial nor should it be exploited, damaged, or incommodious for people to engage, enjoy, and find comfort in our unique coastal landscapes. The sea is ours to care for, as custodians of the planet we must seek to protect, examine, and question these conditions further. Celebrating our connection with water, respecting its power, understanding the way it influences us and finding ingenuity in the offing are all important and essential.