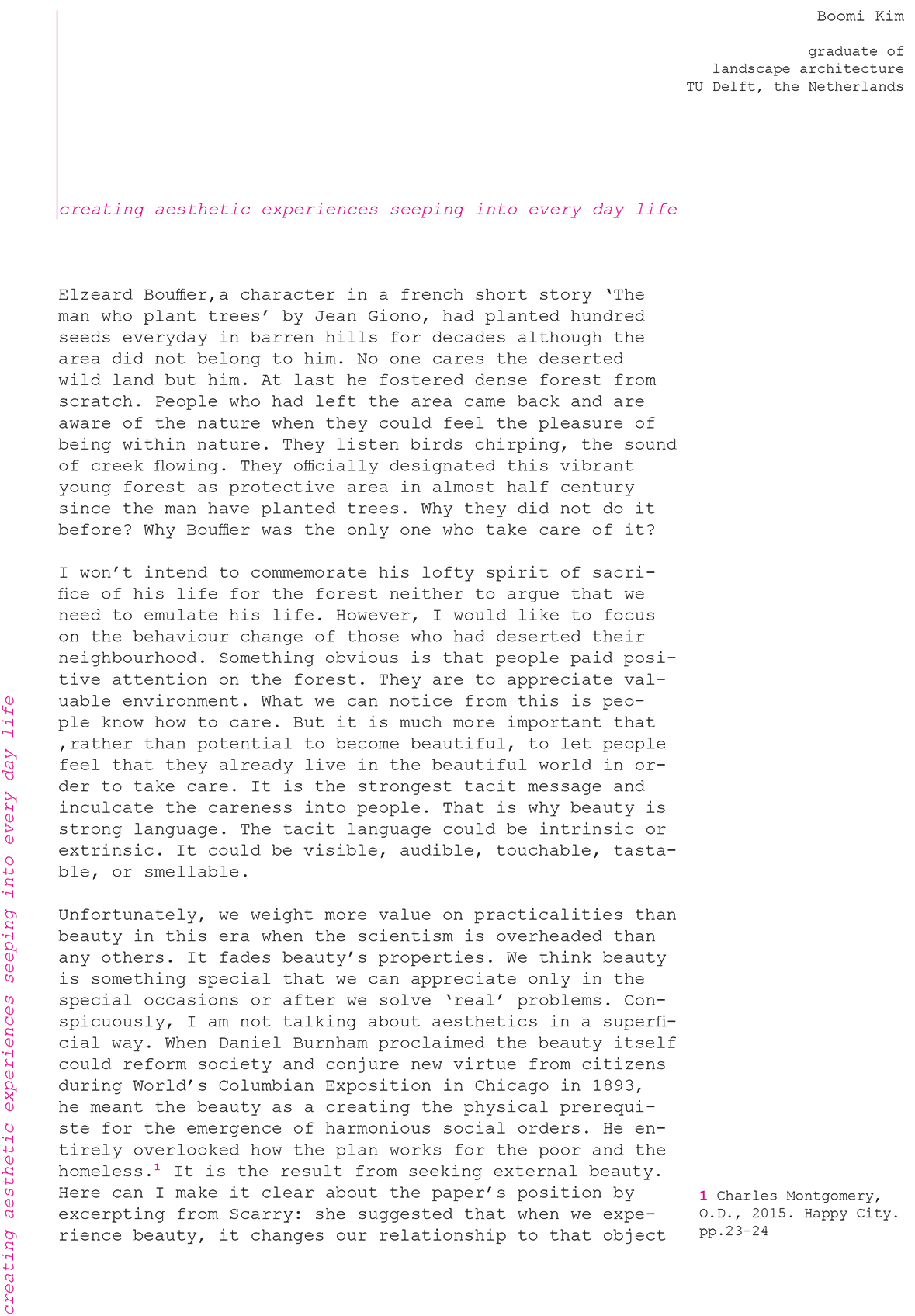 Creating aesthetic experiences seeping into every day life

text: Boomi Kim,
graduate of landscape architecture at Technische Universiteit Delft

reading time: around 10 min
Elzeard Bouffier, a character in a french short story 'The man who plant trees' by Jean Giono, had planted hundred seeds everyday in barren hills for decades although the area did not belong to him. No one cares the deserted wild land but him. At last he fostered dense forest from scratch. People who had left the area came back and are aware of the nature when they could feel the pleasure of being within nature. They listen birds chirping, the sound of creek flowing. They officially designated this vibrant young forest as protective area in almost half century since the man have planted trees. Why they did not do it before? Why Bouffier was the only one who take care of it?
I won't intend to commemorate his lofty spirit of sacrifice of his life for the forest neither to argue that we need to emulate his life. However, I would like to focus on the behaviour change of those who had deserted their neighbourhood. Something obvious is that people paid posi- tive attention on the forest. They are to appreciate valuable environment. What we can notice from this is people know how to care. But it is much more important that ,rather than potential to become beautiful, to let people feel that they already live in the beautiful world in order to take care. It is the strongest tacit message and inculcate the careness into people. That is why beauty is strong language. The tacit language could be intrinsic or extrinsic. It could be visible, audible, touchable, tastable, or smellable.
1. Charles Montgomery, Happy City,O.D., 2015, pp.23-24
Unfortunately, we weight more value on practicalities than beauty in this era when the scientism is overheaded than any others. It fades beauty's properties. We think beauty is something special that we can appreciate only in the special occasions or after we solve 'real' problems. Conspicuously, I am not talking about aesthetics in a superficial way. When Daniel Burnham proclaimed the beauty itself could reform society and conjure new virtue from citizens during World's Columbian Exposition in Chicago in 1893, he meant the beauty as a creating the physical prerequisite for the emergence of harmonious social orders. He entirely overlooked how the plan works for the poor and the homeless. 1 It is the result from seeking external beauty. Here can I make it clear about the paper's position by excerpting from Scarry: she suggested that when we experience beauty, it changes our relationship to that object or scene or person. 2 That is, beauty is not only about physically looking good but beauty on social and cultural context so that people can empathize with the beauty. It attracts people to take care of as well as solves the existing problem even though I am not sure which comes first.
2. E. Scarry, On beauty and being just.,Princeton University Press, 2013

3. Meyer, E., K Sustaining beauty. The performance of appear- ance: A manifesto in three parts., Journal of landscape Architecture, 3(1), p.17, 2008
I would suggest please do not think about responsibility to take care of something, but try to savour all the senses surrounding you first like people visit park to go jogging, riverfront side to walk their dogs, woods to go camping. They want to get release the stress, appreciating urban or wild beauty. We can start from the step out of our house and roam around by your intuition or curiosity. Elizabeth K. Meyer argues that the experience of beauty, a process between the senses and reason, an unfolding of awareness, is restorative. 3 This is the new forms of beauty. It does not require geometrically perfect composition with golden ratio. But we can feel more freedom on our subjective aesthetic perspective and try to taste it.
I always like to discover other routes to go to school or work. Even now I try different types of transportation depends on my mood at the moment. Each of journeys - the same destination using different speed of transportations such as by foot, bike or tram etc. - presents you with various perception. You can find something you missed with other modes of transportation. These days, I feel pleasant breeze and walking along blooming narcissus. I stop on the way and close look to the grass struggling to survive in between concrete gap, taking pictures of it. It looks trivial but arouses me a vital power to think of the life. In the end, the experiencing beauty is the means of taking care of yourself and your world.